Why, indeed, you may ask?
Could it have anything to do with the fact they're forced to wear HAREM PANTS?

As promised, from time to time I'm taking a break from reporting street style fashion, so I may let loose on a fashion rant. Every season the Industry is all psyched to ram a fashion trend down our throats, and every season we vote with our feet by refusing to wear it. I remember a few summers ago, the shops were full with what looked like pregnancy dresses. And the shop stayed full of them, because we weren't buying.
But no trend has been so relentlessly ignored (in my humble opinion) than 'harem pants', or 'peg leg trousers' as they call them in the UK because pants means underwear. Which is kind of what they look like: giant diapers. I needn't go on & on because I already
have
. And as before, my offer still stands: submit a photo of just one girl who looks halfway decent in them, and I'll post it on this blog.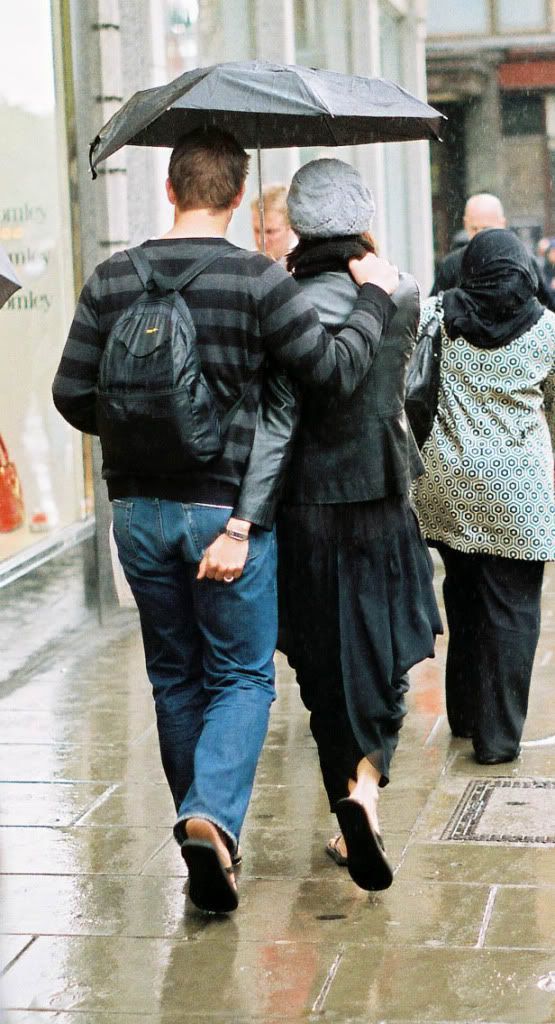 I haven't seen anyone wearing them, apart from one woman who just looked like she was trying (unsuccessfully) to hide her worst asset, UNTIL this woman wafted down the street like an gypsy moth one recent rainy Thursday. I couldn't get my camera out in time, and was lucky to get this one shot. I wish you had seen her from the front: she was beautiful, and thin as a waif, but in a good way. She was one of those creatures that would look good in anything, which begs the question: why not wear something else?
I'm truly curious how other women feel about this. Is it just me? Do they think we're total idiots? Okay, I've calmed down now and think I'm done with this rant. For now. The offer still stands tho: send me a photo of someone who looks good in their harem pants, and I promise to put it up. I have a feeling the angriest women are those who shelled out big bucks only to have the damn things hanging in their closets with the labels still on. 
Update: Stephanie Clayton of
Style Odyssey
just rose to the challenge: check out her comment below, and then
this
.